Do let me know if you would like to be part of my rattie mailing list for when I have new cute pics or updates! Just write
RATS!
in bold and I will squeal, feel honoured and send you a squishy rat hug in happiness!
Hello guys!
We will be using this thread for general updates on our rattery, pics, new ratties and any future litters :). So check back or spy if you want to see more ratties :).
I thought I'd tell you lovely people all about Diction and I's small rattery if you would like to see and read? D and I have ALWAYS had rats, long before we met each other over ten years ago, and long, long before we started living together over five years ago :). I used to have the occasional hobby bred litter and would show them under the National Fancy Rat Society, D did a lot of work with rescues in Ontario :).
Up until last year at most we had four rats together. Our last older pair died last year - my dear girls Athena and Pandora. Anyone who has had and appreciated rats will know that despite their short life spans - they are a total joy to own, with such unique personalities and traits. Plus of course they are absolutely adorable, playful and gentle creatures.
While looking for a couple of rats to buy after our girls passed away I realized there are just....no rat breeders in our area. At all. We found a couple of feeder breeders (people who breed rats/mice for reptile food, and will sell them as pets too, but they generally aren't well looked after/socialized) and of course pet shops have them - but we refuse to buy from pet shops, as it supports a very shady trade when it comes to small rodents.
We ended up getting some help from some rattie friends, and bought four boys. Since then we have also adopted one girl and bought four other girls. We are in contact with several breeders further afield, as we would love to show again, and maybe have the odd litter, breeding for lifespan, health and personality first and foremost. We decided never to breed from a respy rat for example.
For D's birthday this year, I bought her a new rat cage! It is HUGE and can hold up to SEVENTEEN rats, we absolutely had to take some silly pictures while putting it together!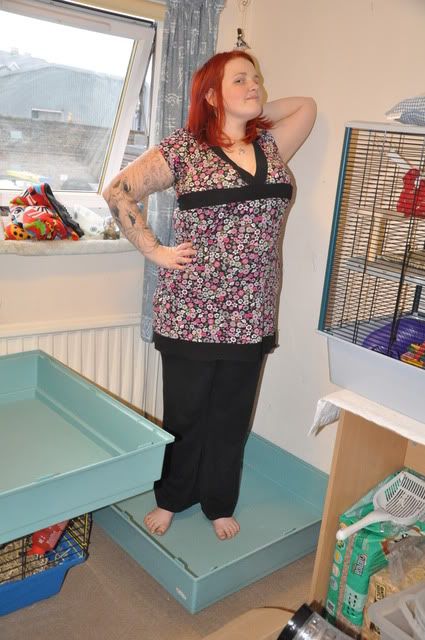 D poses in the base of the cage!
One half of the cage!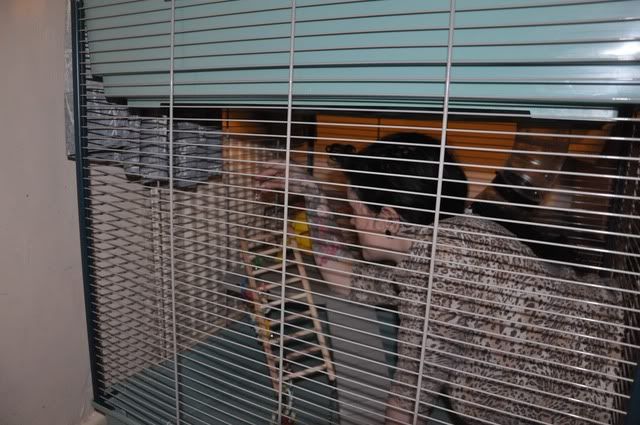 So big I had to get IN the cage to deck it out!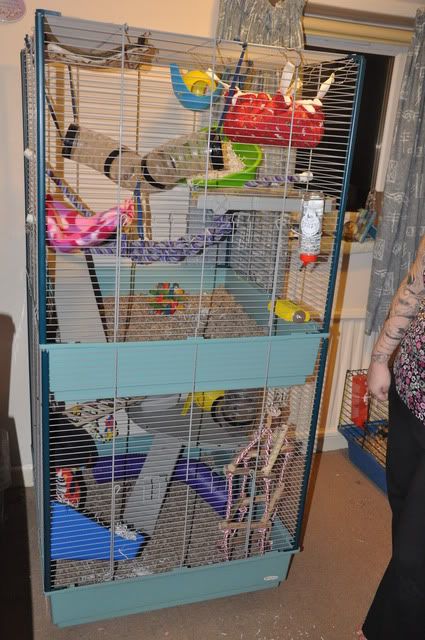 Done and together! The cage is bigger then us - see the doors in the front? That is where I fit through to decorate the cage, right up to my hips, to give an idea of the sheer size!
Now on to the rats!
First I shall show you Rain. Rain is our adopted, beautiful girl. She is a red eyed Himalayan. She was up for adoption because she apparently 'bullied her brothers' and her name was 'Clive'. We think more likely they wrongly sexed the rats, panicked when they realized she might be pregnant and dumped her on a rescue. Clive was renamed Rain and quite how anyone could bear to part with her beats me. She has SO MUCH personality. So much.
She is a dumbo (for non-ratty people, dumbo is where the ears are set on the head - top ear have normal ears, dumbos have low set ears - that is the only difference).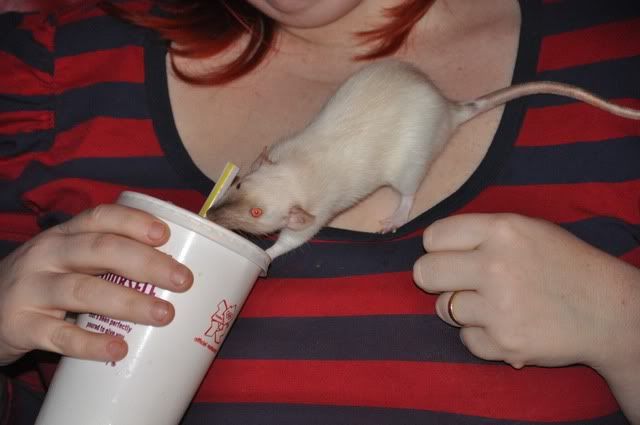 She is a typical doe - interested in everything, naughty, mischevious and bulshy! She decided she REALLY wanted milkshake. Even if that meant stealing D's straw multiple times, and trying to pry her mouth open to get to said, delicious milkshake!
I think you'll find that milkshake is MINE.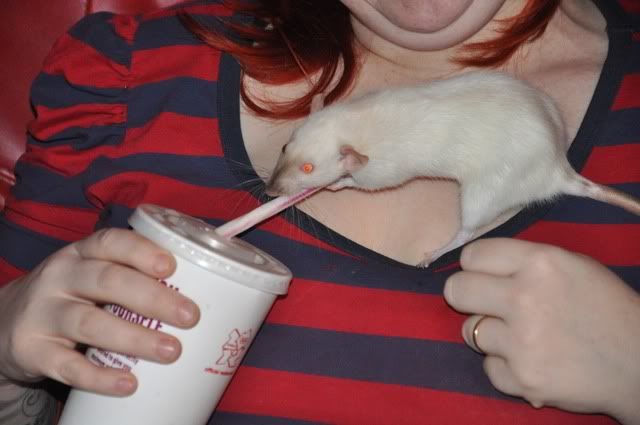 No really, it's mine, give me that straw!
What do you mean it isn't my milkshake? Vanilla is my favourite!
After wearing herself out silly, she then tends to fall asleep curled up beside D, or curled up on D!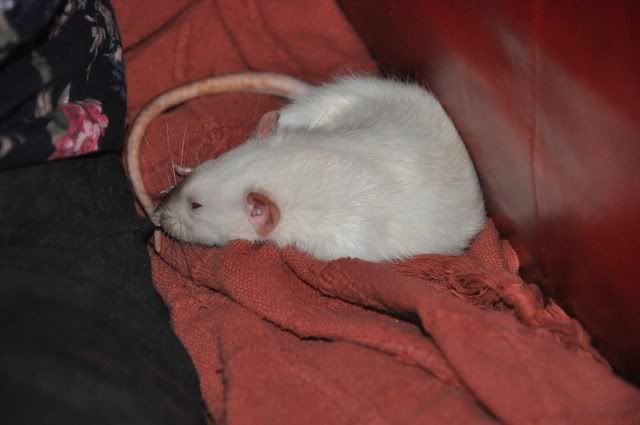 Caught both napping in the day!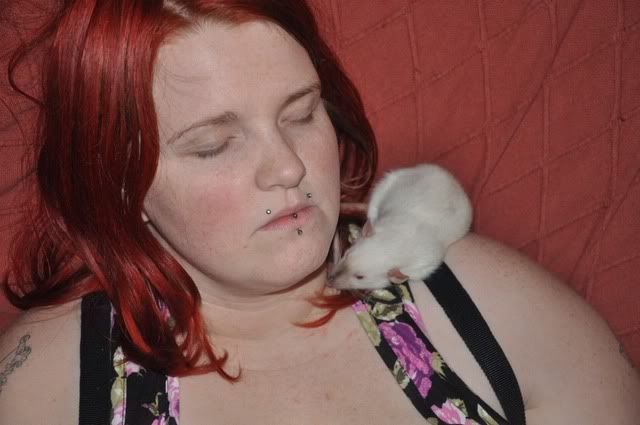 Time to meet our other rats, we haven't had them quite as long as Rainy, so less pics of them, so far!
Time to meet the boys! First up is Eric. Eric is our beautiful black hooded top ear, with some really stunning hood markings, check out that lovely stripe!
Cuteness that is Eric!
Eric kindly shows us where we forgot to rat proof - the one thing! Thanks Eric!
We feed our ratties on a customized diet, Eric shows how yummy it is! Being natural scavengers, rats have actually shown depression when placed on a pelleted/blocked food over a mixed food! We also feed fresh with breakfast and dinner daily, plus a daily supplement :).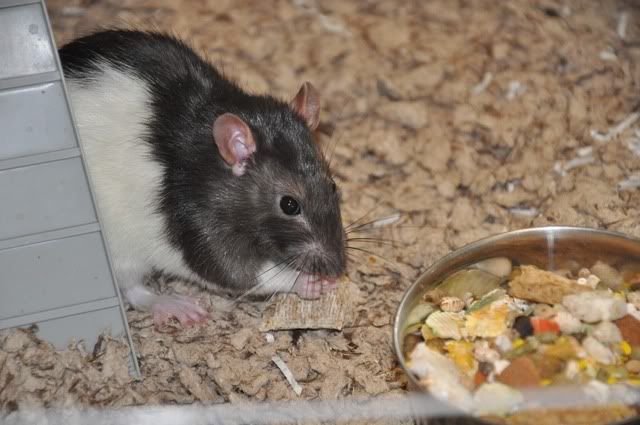 He really likes cereal ;).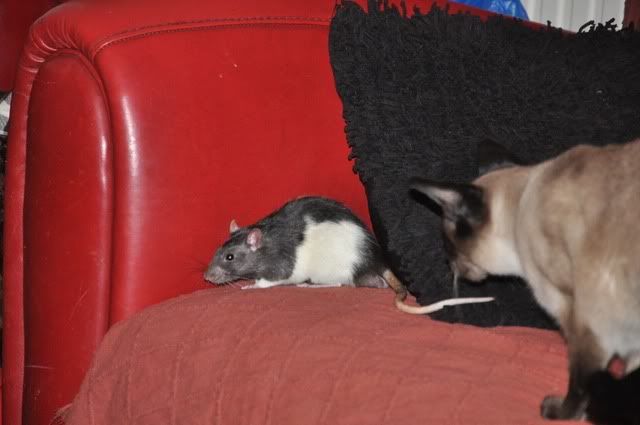 Kitties aren't a problem, all our animals are introduced :).
Even Mozart!
Next rattie boy is lovely Santino. He is a black self dumbo and has the sweetest nature. Very friendly, not QUITE as bulshy and confident as Eric and very, very licky, he constantly gives kisses :).
He is rather gorgeous, look at those feet!
Exploring Santino!
Santino peaking out his cuddle pouch!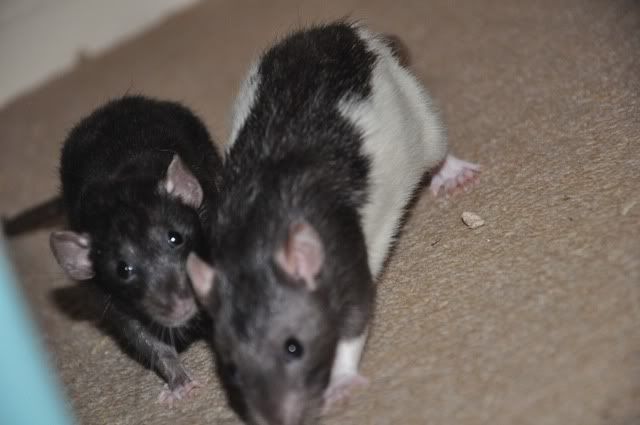 Santino and Eric, double trouble!
Moving along to boy number three - this is handsome little Nyx, Nyx is also a dumbo. He is a black bareback :).
Why yes, I'm adorable!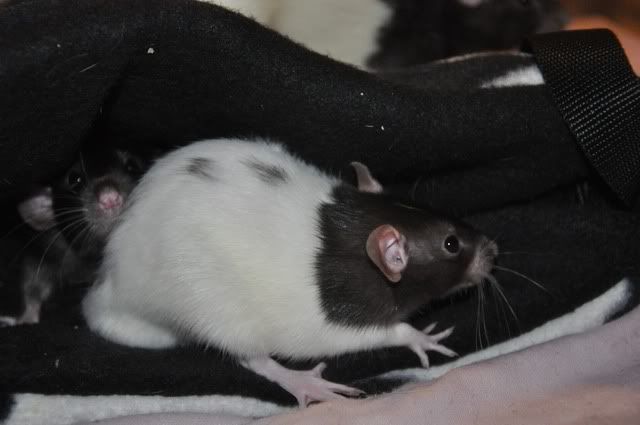 Nyx attempts to back up in to Santino, oops!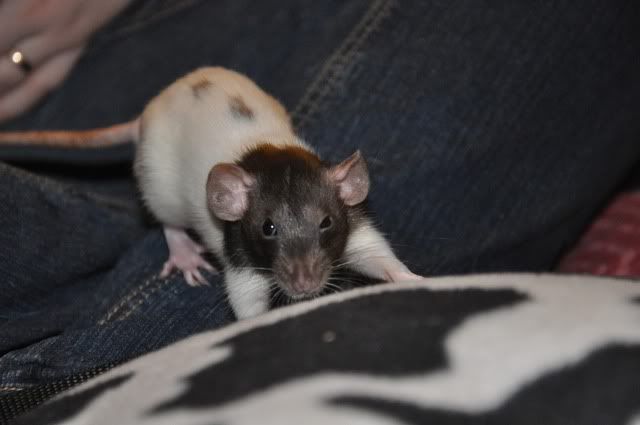 Wink! Nyx is up to something!
Spotted back!
Omnomnom mealworm!
And the final boy, this is Lucifer aka Luka. Luka came to us VERY shy indeed, but he gains confidence every single day. I don't have many pics of him as he has only just started to free-range as eagerly as the other boys :). Luka is a Russian Blue top eared Berkshire.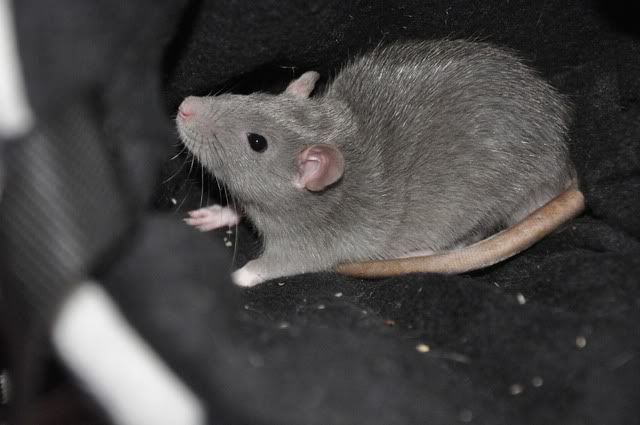 One of the very first times he ventured out the cuddle pouch, hence his nervous body language, bless him!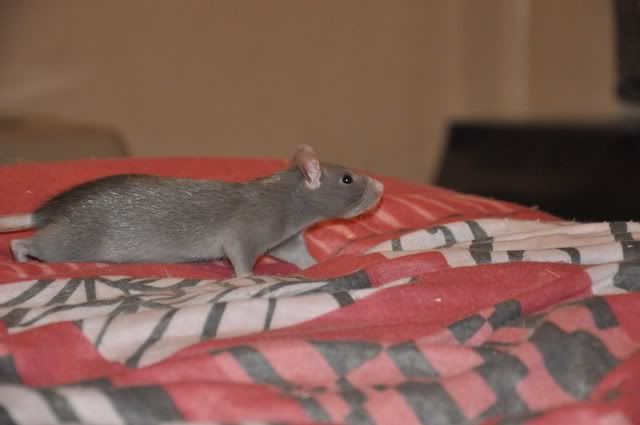 Look at that face and those whiskers!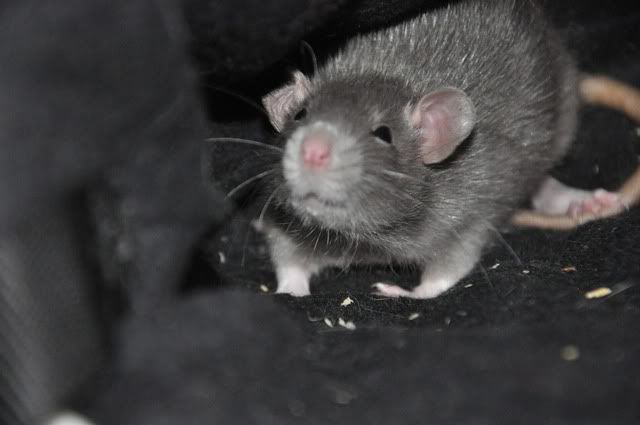 Three boys after lots of playtime, back to the pouch they want, meaning - time to sleep and go back to cage!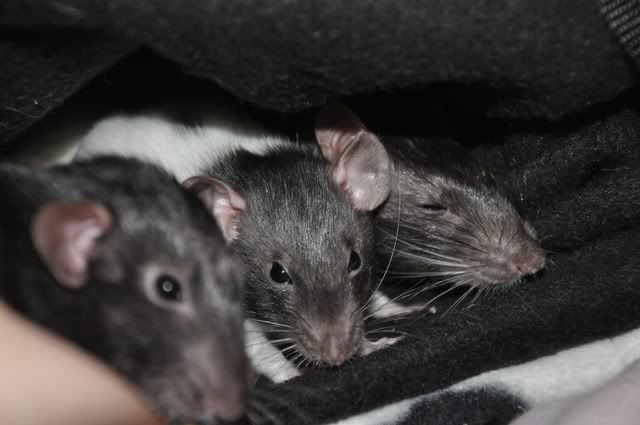 Now on to the little girls. They are still little babies, younger then Luka and Nyx, we only got them last weekend. They are, lika Luka, growing in confidence every single day and now beg at the bars for tummy rubs and treats! These pics were taken the day after they arrived however, so they were still nervous here!
Bag o'rats! Four little girls in this bag, while Rain walks on top of them like a silly!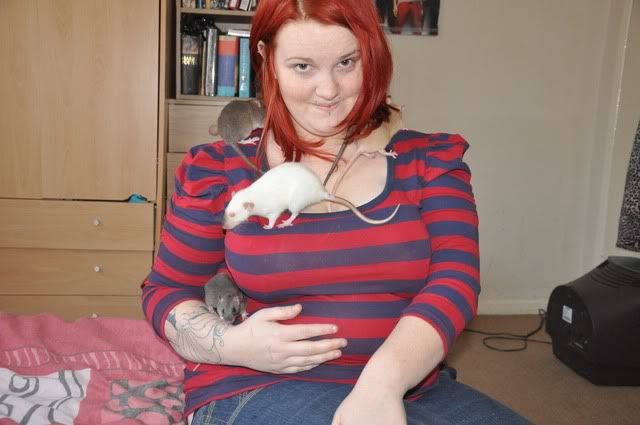 Rat pile on D! All of the new girls are top eareds. Two agouti berkshires, one agouti self and one silver fawn self.
Rat butts!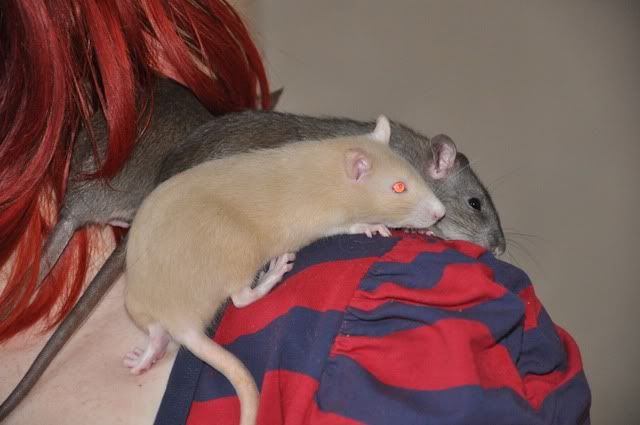 Philadelphia (named after my late grandmother) at the front, Gypsy behind and Velvet behind Gypsy. You cannot see Lace in this photo!
Little Lacey :).
Philly, this picture was taken to show her lovely belly colouration.
And that is it currently. We have some newbies joining the rattery in the next few weeks and I shall be sure to post them here, plus any litters in the future.